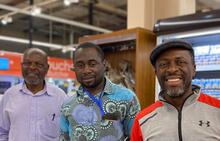 ABOUT THE TEAM
This is what we call team work. Being with Rev Ngah Samson and brother Obed Chuye, with a hand from bro Tangko Elvis, made such a wonderful team in building the limbum website. We are proud of our culture, religion, literature. So we thought having a site like this will be a whole library for the Mbum man. Make it a date and be the first to visit LimbumOnline.org.
Do not forget to leave a comment in the email feel free to send us some useful materials in photos and videos and audios and Other literacy materials so that you can be part of this great job.
1 Cor 12:12. Just as the body, though one, has many parts, but all its many parts form one body, so it is with Christ.